X.ITE Community
X.ITE Community brings together professionals and business leaders from different organizations and institutions, all actively involved in the Centre's core activities (namely Research and Events). To become a X.ITE Business Community Member companies or institutions pay an annual fee to cover the expenses of the research projects and academic conferences and events. Research outputs and disseminations through conferences and events are organised exclusively for Business Community Members.


X.ITE Community-driven Research: Design and Sharing
X.ITE Business Community Members are involved every year in at least 3 events to discuss and co-design innovative research projects together with the Luiss-X.ITE Faculty.
In 2016/2017, for instance, Business community members decided to fund the research project "Defining Dynamic Customer-Centered Metrics in Omnichannel Retail". The research outputs were presented during the X.ITE Research Storm on October, 27th 2017.
For 2018/2019, X.ITE issued a call for research on "How cyber-consumers think and talk: a multi-method approach". The research outputs were presented during the X.ITE Research Storm on November, 15th 2019.
In 2020, due to social distancing imposed by the Covid-19 Pandemic, traditional activities of X.ITE Community have been temporarely suspended.
Research project design and output sharing will restart from Spring 2022.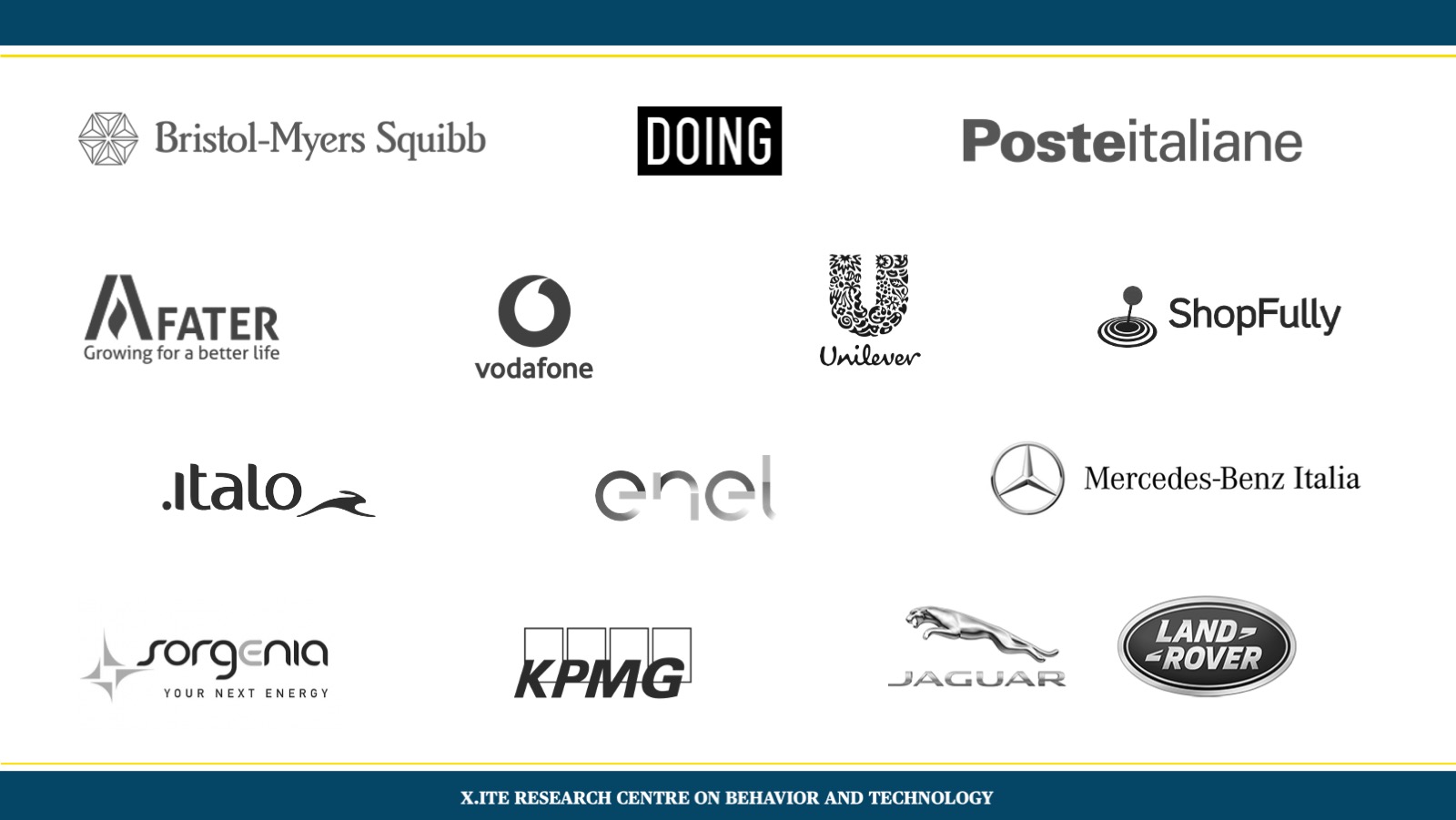 To date, our community members are:


Shopfully (DoveConviene): a digital platform that provides users with geo-localized information about the promotions, products, shops, timetables, and contacts for the main retailers and brands in each category.
Doing: a consulting company specialized in marketing, communication and technology.
Italo NTV (Nuovo Trasporto Viaggiatori): the first private Italian railway company operating in the field of high-speed rail transport.
Fater: a leader in the Italian market of personal absorbent products and the European bleach market.
Bristol Myers-Squibb: a world leader in the pharmaceutical sector that focuses on innovative treatments for serious diseases
Vodafone: a multinational company focused on cellular and fixed telephony.
Unilever: an Anglo-Dutch multinational operating in the FMCG sector, and an owner of more than 400 brands.
KPMG: multinational professional services network. One of the Big Four, is a firm known as one of the most famous accounting organizations.
Jaguar Land Rover: multinational automotive company. The principal activity of JLR is the design, development, manufacture and sale of vehicles bearing the Jaguar and Land Rover marques.
Sorgenia: one of the main operators in the Italian free electricity and natural gas market.
Enel: Italian multinational energy company and one of the main globally integrated operator in the electricity and gas sectors.
Mercedes-Benz Italy: multinational automotive company. The company focuses on the development, production and sales of passenger cars, vans and vehicle-related services.