X.ITE Community Members
X.ITE community members annually propose potential research streams to invest in. In 2016, for instance, members decided to finance the project entitled "Defining Dynamic Customer-Centered Metrics in Omnichannel Retail". The preliminary results of the study were presented at the Research Storm on October, 27th 2017. 
Moreover, for 2018/2019, X.ITE has issued a call for research on "How cyber-consumers think and talk: a multi-method approach".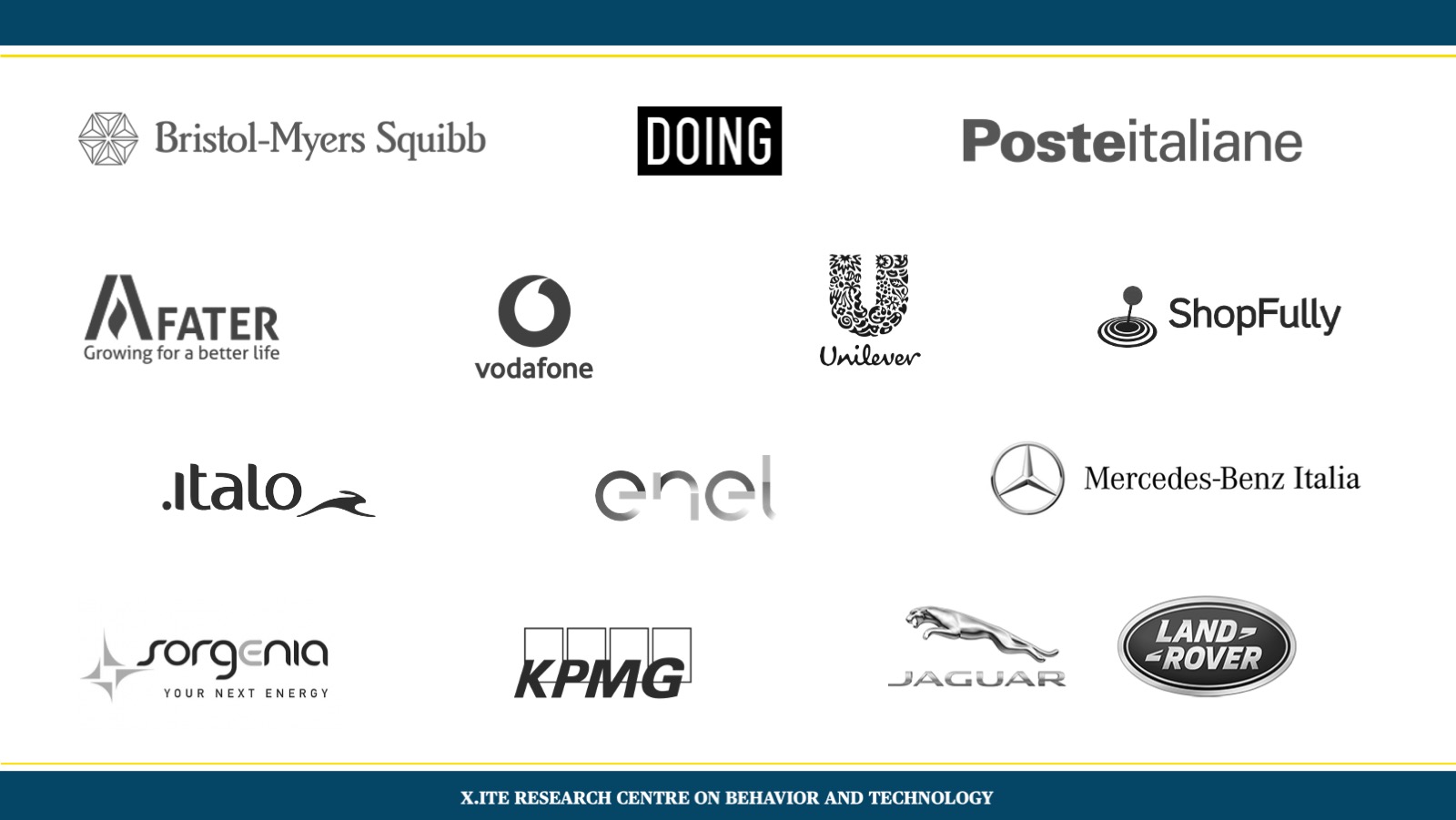 To date, our community members are:


Shopfully (DoveConviene): a digital platform that provides users with geo-localized information about the promotions, products, shops, timetables, and contacts for the main retailers and brands in each category.
Doing: a consulting company specialized in marketing, communication and technology.
Italo NTV (Nuovo Trasporto Viaggiatori): the first private Italian railway company operating in the field of high-speed rail transport.
Fater: a leader in the Italian market of personal absorbent products and the European bleach market.
Bristol Myers-Squibb: a world leader in the pharmaceutical sector that focuses on innovative treatments for serious diseases
Vodafone: a multinational company focused on cellular and fixed telephony.
Unilever: an Anglo-Dutch multinational operating in the FMCG sector, and an owner of more than 400 brands.
KPMG: multinational professional services network. One of the Big Four, is a firm known as one of the most famous accounting organizations.
Jaguar Land Rover: multinational automotive company. The principal activity of JLR is the design, development, manufacture and sale of vehicles bearing the Jaguar and Land Rover marques.
Sorgenia: one of the main operators in the Italian free electricity and natural gas market.
Enel: Italian multinational energy company and one of the main globally integrated operator in the electricity and gas sectors.
Mercedes-Benz Italy: multinational automotive company. The company focuses on the development, production and sales of passenger cars, vans and vehicle-related services.